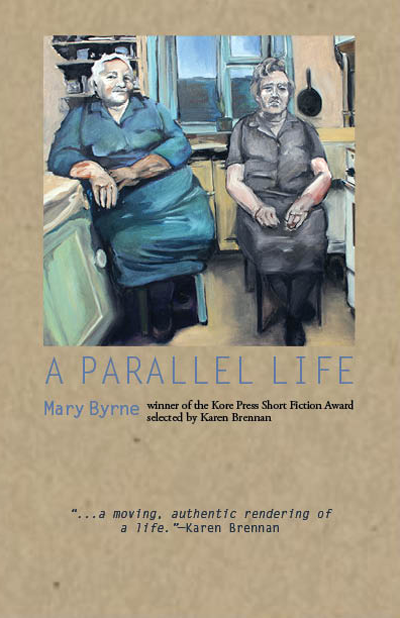 $11, 5.5 x 8.5", 32 pgs, color cover on kraft paper,
staple binding
Excerpt from A Parallel Life
Writing is a difficulty Zorica approaches tongue out, armed with the accoutrements she adores: paper clips, see-through file dividers, pens. The result is a single word: her surname. Although the letters look as if they are ready to be joined to others, they stand shakily alone, as in infant school. This is more or less how Zorica sees herself in the world of French bureaucracy.
French administration is a dragon to Zorica, its huge mouth occasionally, often inexplicably showering hot air and flames in the shape of Orders to Pay and bailiff's letters. Even a French electricity bill comes with the proviso that if it isn't paid within a fortnight, it will be increased by 10%. Zorica keeps fearful watch for the dragon, signing her surname painstakingly on checks that others have written for her.
In my absence, the lady who works in the post office accepts two Euros for this job: Zorica prefers her financial affairs to remain secret from our other neighbors. When I write a check for her, we sometimes have to scrap the whole operation while Zorica starts her signature again, tut-tutting loudly.
When you can only write one word, you want it to be perfect.
Mary Byrne was born in County Louth, Ireland. She currently lives in Montpellier, France, after long spells in Paris, the south of France, and Morocco. She has taught at various French universities in Paris and Normandy and is now a freelance translator. Her short fiction has been published or broadcast in Europe, North America, Australia. She is anthologized in Faber Book of Best New Irish Short Stories (Fabers 2007), Queens Noir (Akashic 2008), Best Paris Stories anthology, May 2012. She is currently working on several collections of short fiction.
"This remarkable story traces the life of a
Serbian woman, Zorica, marooned for years in
Paris, struggling with illiteracy, bureaucracy,
aging and the forces of history that have shaped
her life. Told by a nameless narrator with an
effortless blend of humor and pathos, "A
Parallel Life" is structured like a
document—eschewing the traditional
dramatic action of literary realism and
straddling the borderland between fiction
and nonfiction. This bold formal choice, as well
as the author's modesty, intelligence, and
wonderful writing, contribute to a moving,
authentic rendering of a life, which becomes
extraordinary in its ordinariness. From start to
finish, "A Parallel Life" rings with integrity and
wisdom." — Karen Brennan, judge